WUTA LEATHER
Regular price
$59.98 USD
Sale price
$39.98 USD
Unit price
per
Sale
Sold out
57 in stock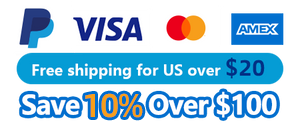 2 Type Available
---M390 Steel Type: Longer Sharpness Retention & High Rust Resistance
Blade width:35mm (1.37 inches), blade length:52mm(2 inches), handle length:100mm (3.93 inches)

---High Speed Steel Type:
Blade material: High Speed Steel. Sharp & hard Hardness: HRC 68-70
Blade width:35mm (1.37 inches), blade length:52mm(2 inches), handle length:100mm (3.93 inches)

---Wood handle:High density ebony wood

---Weight: approx 108 grams (3.8 oz)
Features
---2 material steel for choose :M390 steel, longer sharpness retention. high speed steel-Hardness 68-70HRC, Bring Better Toughness and Recovery.

---High density ebony wood, with natural texture and gloss, comfortable feeling

---Stainless steel hand guard fastens the strcture of this knife.

---The angle of bevel is 10 degress. the thickness of the blade is 26 mm,Durable wear resista

---Great for leather cutting triming and skiving. This knife is an ideal cutting tools and worth collecting with gorgeous design.
Advantages of M390
----M390 steel is one of the most popular and best performing types of steel on the market, it features in sharpness retention. M390 is so wear and tear resistant it also properly maintains the shape of the edge. As such a knife made from M390 steel will retain its sharpness for a very long time. This means you don't have to sharpen your knife as often. Not only great because sharpening your knife takes time, but also because it means your knife will last longer. After all, the more often you sharpen your knife, the faster it will wear out. It is not possible to sharpen a blade over its full height: the blade will become too thick behind the edge. This means it won't be as easy to use.

----In addition to sharpness retention M390 has a few other fine qualities. It can be hardened to a relatively high hardness without it breaking quickly. This, however, doesn't mean that M390 is very tough. It does mean that M390, when compared to other types of steel, can be sharpened a little thinner.

----M390 is also relatively stainless. Because of the large amount of chrome rust won't stand a chance. Especially when compared to other hard types of steel that are known for their sharpness retention but can still be affected by rust.
NOTE
The liquids and knives are special items, we need to ship out with special shipping method. and easy to be affected by strict security inspection, so transportation speed will be slower than the other general goods. hope you could understand ,if there is any question about the shipping,please feel free to contact us,thank you for your patience.
View full details