WUTA LEATHER
Regular price
$35.98 USD
Sale price
$29.98 USD
Unit price
per
Sale
Sold out
62 in stock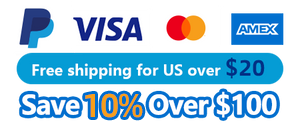 Specification
Name: Knife Sharpening Stone
Brand:WUTA
Material: white corundum
Weight: 800g
Specifications: 18cm*6cm*3cm
Function:Used for round edge bevelers,falt edge bevelers,wide edges,cutting and grinding of leather knives
Package Included
1 Piece Dual Sided Whetstone (Including 3 Pieces Silicone Base)

If choose Sharpening Stone Kit,we will ship out more 1 Piece Flattening Stone
Features
1.Advanced white corundum material: not all whetstones are the same. We only import and purchase high-quality materials for manufacturing sharp pebble whetstones, which will provide excellent cutting performance.

2.Multi-purpose: Our professional grade whetstone is very durable.In addition to being used for polishing leather tools, you can also grind any blade! Including kitchen knives, outdoor props polishing, etc.

3.1000/3000 double-sided is available:Grit 1000# is used for sharpening knife blade.Grit 3000# is used for polishing knife blade. Use it ,you can polish the tool to a mirror effect.

4.Flattening Stone is used for correcting the whetstone. When the surface of the whetstone is uneven and smudged, it can be smoothed with this 300 mesh whetstone.
View full details