WUTA LEATHER
Regular price
Sale price
$11.98 USD
Unit price
per
Sale
Sold out
81 in stock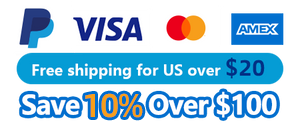 There is a coating on the iron head surface to prevent rusting, which may fall off under high temperature,but this is a normal phenomenon. It is recommended to wipe and clean the iron head frequently on the scrap leather during use, in order to prevent the peeling coating and the stain during the use from polluting the leather surface.
Specifications
Material: Tungsten filament + ABS
Color: as picture show
Size: total length 13.5cm/5.31''; tip length: 3cm/1.18'' (Approx.)
Feature
One Touch: Tip heats up instantly with the push of a button! Can heat-up up to about 700 degrees F/371 degree C in a matter of 2-3 seconds.

Professional & Practical: The thread zap II replacement tip is made of quality tungsten wire, heating faster, can quickly fuse, accurate positioning and precise application. Great for finishing bead weaving and stringing projects. Operates on a single AA battery (NOT Included).

Instructions for Use: Align the battery with the pen body, put in the 5th battery.Insert the replacement tips in thread burner, then press and hold the switch for 5 seconds to use immediately.

Compact & Convenient: This thread zap II replacement tip is very compact, when it is not applied, it does not occupy a position on the side, save space.

Warm Note: After using the thread zap II replacement tips, when the tungsten wire of the pen nib has not been completely cooled, please DONOT cover the pen cap to prevent it from being broken and unable to be applied normally.
Package Included
1* Thread Zap II Burner(include 1 tip)

1* Extra replacement Tip
Notes:
1.After using this product, when the tungsten wire of the pen tip is not completely cooled, touching objects or skin can cause burns.

2.The tungsten wire of the nib becomes soft and easily deformed after heating. Therefore, please put the cap on when not in use to prevent the cap from breaking and not working properly.

3.Clean up debris after the nib burns and melts. Includes pointed parts, keep away from children.
View full details