WUTA LEATHER
Regular price
$32.85 USD
Sale price
$18.68 USD
Unit price
per
Sale
Sold out
101 in stock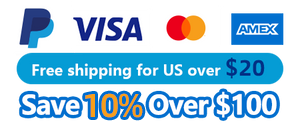 Specifications
---Material: High speed steel

---Hardness: HRC-60

---Shape: 3 Shape available, choose what you want

---Size: height: 24mm
1. Sharp end shape: 10 sizes, 24mm, 25mm, 28mm, 32mm, 34mm, 36mm, 39mm,41mm, 45mm, 48mm
2. Round end shape: 10 sizes, 22mm, 24mm, 26mm, 28mm, 30mm, 32mm, 36mm, 38mm, 40mm, 42mm
3. Flat end shape: 10 sizes, 20mm, 25mm, 28mm, 30mm, 32mm, 35mm, 41mm,45mm, 49mm, 55mm
Feature
💎High Quality: Cutter blade is made of high quality high speed steel,high frequency quenching, high hardness and durable. the joint adopts artificial spot welding technology and not easy to deform.

💎This leather strap cutter die 3 shape available, each shape has 10 sizes, which can meet your different needs.

💎Sharp Cutting Dies: The sharp blades for quick stamping and cutting to ensure don't leave marks.The edge is sharp, the shape of the cut leather is neat and precise.

💎Wide Applications: The die cutter suitable for punching holes in various material, such as leathers, fabric, cardboard, paper, polymer clay, plastic bag.

💎Easy to Use: Place a strong flat even piece of wood or rubber board on top of the metal shapes and then hammer, or use leather hammer to hit metal directly.It will not damage the metal shapes.
Note
1.When knocking,Please use even force to avoid the deformation of the knife body caused by uneven force.

2.It is recommended to use with die cutting machine for higher efficiency

3.When storing, please put the edge blade down to prevent accidental injury.
The Advantages
Strong Metal,High Hardness,Sharp Blade
Die Cutting Diameter (H/25mm)
Sharp End Shape
Round End Shape
Flat End Shape
Strength evenly, Angle 90°easy
Usage Method
View full details