WUTA LEATHER
Regular price
$69.80 USD
Sale price
$53.80 USD
Unit price
per
Sale
Sold out
18 in stock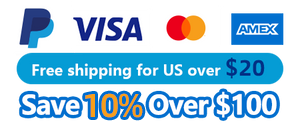 Specification
Name: Professional Leather Edge Beveller
Brand:WUTA
Material: Dc53/M390 Steel Knife Body, Ebony Handle, Brass Hoop
Hardness: HRC60
Specifications: 6 size available
Features
1.Bring perfect circle Leather edge-originated from high-precision numerical control slotting. After many tests, we solved the problem of scratches on the bottom groove. And at the same time, it is guaranteed that the shape of the leather edge is perfectly round after being thinned.
2. It was grinding without dead ends and mirror polishing-both strength and extreme sharpness. It was hand-polished by a master with many years of experience, that takes a long time. Using it, you can get a clean and smooth edge, which is an excellent convenience for subsequent leather edge processing.
3. Professional chamfering edge beveler-superior performance, elegant appearance, high cost but well worth, this is our definition of professional leather tools. "At this moment, enjoy the silky smoothness", this is the real feeling of the leather craftsman after testing this tool.
4.DC53 DIE STEE-hardness 60hrc, bring better toughness and recovery; DROP-SHAPED EBONY HANDLE-with natural texture and gloss, comfortable feel; H62 BRASS HOOP-still shines in the open for 1 month.
5.DIRECTIONS-After beveler the leather edge, apply with florenole treatment agent or edge kote Pro. Repeat as necessary for a smooth edge. Rub gently for a more luminous finish.
View full details