WUTA LEATHER
Regular price
$25.99 USD
Sale price
$18.69 USD
Unit price
per
Sale
Sold out
71 in stock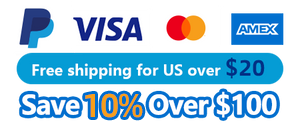 WUTA Multi-functional Polishing Board
Features:
❣️This paddle strop underside is covered with rubber anti-skid pad.It's safety and good for sharpening knives., so you can start sharpening your knives or other leathercarving tools immediately. Moreover, the sharpening strop with vegetable tanned leather is suitable for round edge bevelers, falt edge bevelers, wide edges.

❣️Moltifunctional polishing board Double-sided strop is designed for beginners and professional carvers for honing and keeping knives and leathercarving tools razor sharp. Just strop the blade away from the cutting edge on both sides of the leather strop to maintain a razor sharp cutting edge.

❣️The sides are chamfered and finely polished, so they are easy to grip in the hand without causing any burden.Silicone foot pad, can be the maximum limit to prevent sliding, to protect the desktop.

❣️We manufacture our own knives and other leather tools, so we have absolute confidence in the quality of our tools sharpeners.We know how important the materials are for making leather tools sharpeners.We use aluminum alloy CNC engraving, which enables it to fit the bottom groove of the edge shaper more accurately.

❣️Premium Quality: Our moltifunctional polishing board Design has high build quality.The application of black oxide surface treatment can greatly improve the anti-rust performance.The circular hole design for easy rope hanging.
Specification:

Name: multifunctional polishing board (or kit)
Brand: WUTA
Material: aluminum alloy, the surface is oxidized and blackened
Weight: 300g/400g
Specifications: 18.3cm*7.2cm*0.75cm
Function: for cutting and grinding of round edge bevelers, bevel edge bevelers, wide edges, leather knives

How to use:

1. Oxidation and blackening surface treatment can greatly improve its antirust performance
2. Aluminum alloy CNC engraving, which can more accurately fit the bottom groove of the edge former
3. Round hole design, more convenient for hanging rope
4. Four-sided chamfering can be finely polished without hurting hands
5. Silicone foot pads, non-slip, to protect the desktop to the greatest extent
Package Included:
Sharpening Strop including :

1 * Leather Sharpening Strop
Sharpening Strop kit including those items: :
1 *Leather Sharpening Strop
1 * 2000 grit sandpaper(230*276mm)
1 * 2500 grit sandpaper(230*276mm)
View full details