WUTA LEATHER
Regular price
$6.99 USD
Sale price
$4.69 USD
Unit price
per
Sale
Sold out
48 in stock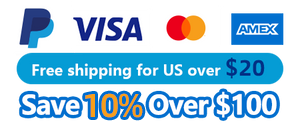 Package: 1/2piece, Pack according to your choice
Size: approx length 130mm*wide 20mm
Material:ox bone
Color:beige
Pointed tip great for creasing & scoring
Note
The bone folder may be some natural marks, scratches, but do not effect the normal use
Please be reminded that due to lighting effects and monitor's brightness/contrast settings etc.the color tone of the website's photo and the actual item could be slightly different.
This bone folder is made of ox bone just like all of our bone folders are (except our black horn folder which is made of black horn!) and is 5"/130mm long and 20mm wide with one pointed end and one rounded end which you can see clearly in the photos. The size means it fits nicely in the hand giving you good control and the width gives it excellent strength when tackling thicker paper like watercolour and printmaking paper. Like our Origami Bone Folders, it's especially useful when using on fine delicate papers but we find it useful for a whole gamut of crafting procedures - we love these!

All the best folders are made of bone and really unless you have a particular aversion to using animal products you should only use bone. The plastic ones flex far too much and the wooden ones are likely to damage the material you're working with.

A bone folder is a tool often used in paper crafts such as bookbinding, Japanese origami (artistic paper folding), scrap-booking, and card-making. A classic, 'proper' bone folder is carved from real animal bone which is an ideal material for paper crafts because it is sturdy, smooth and grainless unlike the lesser quality plastic or wooden types. Available in various shapes and sizes, it may have rounded ends or a pointed end for working in corners.
There are a number of uses for a bone folder, including folding creases, burnishing decorative papers and scoring paper stock. Many crafters use a bone folder as a means of giving a folded page a more professional-looking crease. The friction between a finger and paper may create problems over time, but a bone folder's smooth surface can be drawn across the fold time and time again. The bone material allows the crafter to apply constant pressure while finishing a crease.

Another function of a bone folder is called burnishing. The bone folder's smooth finish imparts a glossiness or shininess to paper as it is drawn across a fold or crease. Burnished decorative papers often present a more professional finish than unburnished papers. A bone folder acts much like a polishing stone, smoothing out the paper's fibers and creating a more defined fold.
APPLICATION
View full details