WUTA LEATHER
Regular price
$69.99 USD
Sale price
$60.99 USD
Unit price
per
Sale
Sold out
16 in stock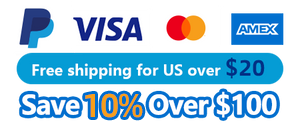 Name: French Style Edge Beveler

Brand:WUTA
Material: 2 Type available,Dc53 Steel Knife Body,M390 Steel Knife Body.
                Ebony Handle, Brass Hoop
Hardness: HRC60
Specifications: 6mm (1.64oz/46.6g), 8mm (1.75oz/49.6g)
Function: Overall Thinning, Broken Bulging, Thinning of Special Parts
Others: Universal for Both Hands
Grinding and Maintenance
① Homemade Grinding Tools: Cut Enough Thick Leather Strips That Just Fit Wide Shovel Specifications, and Apply Grinding Paste;
② Grinding Method: the Blade is Held Down by the Grinding Belt and Pulled in One Direction Repeatedly to Maintain Even Strength;
③ Re-sharpening: Use a Sharpening Stone to Polish;
④ It is Recommended to Polish After Each Use to Facilitate the Next Use.
Features
1. HIGH-PRECISION CNC SLOTTING-Bottom Thickness is 0.35mm, Easy to Shovel Leather, Greatly Reducing Forward Resistance
2. Handmade Convex Grind——Both Strength and Ultimate Sharpness
3. 2 material steel for choose :M390 steel, longer sharpness retention. DC53 Die Steel-Hardness 60HRC, Bring Better Toughness and Recovery. if you want DC53 steel, please check the other page.thanks.
4. DROP-SHAPED EBONY HANDLE-With Natural Texture and Gloss, Comfortable Feel
5. H62 BRASS HOOP-Still Shines in the Open for 1 Month
Advantages of M390
----M390 steel is one of the most popular and best performing types of steel on the market, it features in sharpness retention. M390 is so wear and tear resistant it also properly maintains the shape of the edge. As such a knife made from M390 steel will retain its sharpness for a very long time. This means you don't have to sharpen your knife as often. Not only great because sharpening your knife takes time, but also because it means your knife will last longer. After all, the more often you sharpen your knife, the faster it will wear out. It is not possible to sharpen a blade over its full height: the blade will become too thick behind the edge. This means it won't be as easy to use.
----In addition to sharpness retention M390 has a few other fine qualities. It can be hardened to a relatively high hardness without it breaking quickly. This, however, doesn't mean that M390 is very tough. It does mean that M390, when compared to other types of steel, can be sharpened a little thinner.
----M390 is also relatively stainless. Because of the large amount of chrome rust won't stand a chance. Especially when compared to other hard types of steel that are known for their sharpness retention but can still be affected by rust.
View full details