WUTA LEATHER
Regular price
$28.46 USD
Sale price
$16.21 USD
Unit price
per
Sale
Sold out
80 in stock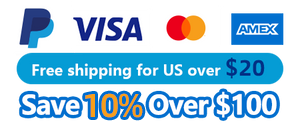 Combine with high quality tools, different tool sets to meet your needs,please choose the tool set you need.
Maybe you think the tools are the same with the other brand when you see the photo,but  in fact, different brands, the quality, sharpness and comfort are different. Please trust WUTA Leather to provide a professional leather tool set.
The leather tools kit is the perfect way to send a small gift to someone in your life. Suitable for beginner and professional craft man. We are the manufacturer of basic leather craft tool, for more leather hand tool please visit our shop.
                               25 Pcs Leather Craft Tool Set
25 PCS HAND STITCHING SET: This leather tools set includes 2pcs diamond chisel(2mm,6mm), 1 Awl, 1 roll 0.55mm wax thread, rubber cutting Mat, needle kit and fingerstall, can meet your basic needs for leather crafts-punching and sewing

DIY TOOLS:A kind of very easy to use DIY hand tool.Great for custom leather work such as sewing leather, canvas, cloth, paper or other projects.

Diamond Leather Chisel:With slightly polished surface, the chisel can pierce through and be pulled more smooth than common one and maximally protect the shape of holes on leather to help you stitch a more beautiful line.

High Quality & DURABLE: The rubber cutting mat strong and durable to protect your blade, tables or work areas. The punching board protect the prong punch, hole punch, and other leather tools.It will not make big noisy
​
​Package Included:
2 x Diamond chisel(2mm and 6mm)
1 x 0.55mm 90meter white wax thread
1 x Awl
1 x Rubber cutting Mat 12*8cm
12X Needle kit
8X Finger Cots
                                   27 Pcs Leather Craft Tool Set
27 PCS HAND STITCHING SET: This leather tools set includes 1set high quality leather stiching spacer(3mm,4mm,5mm,6mm), 1 Awl, 1 wax thread, 1 scissors,needle kit and fingerstall, can meet your basic needs for leather crafts.punching sewing

DIY TOOLS:A kind of very easy to use DIY hand tool.Great for custom leather work such as sewing leather, canvas, cloth, paper or other projects.

100% Polyester Wax Thread:This waxed thread goes smoothly in sewing. Can avoid knotting when you pull it.Glueing or burning can both finish a sewing.

DURABLE EASY TO USE: This leather stitching tools set comes with 4 spacing wheel ,Made of steel and wood, not easy to break, long lasting to use
​
Package Included:
1 Set X Leather stitching spacer(3mm/4mm/5mm/6mm)
1 x 0.55mm 90meter white wax thread
1 X Awl
1 X scissors
12 X Needle kit
8 X Finger Cots
4 X Cotton Swabs
                                     29 Pcs Leather Craft Tool Set
Package Included:
1 Set x Leather stitching spacer(3mm/4mm/5mm/6mm)
1 x Adjustable Edge Creaser
1 x TMJ Knife
1 x 0.55mm 90meter white wax thread
1 x Awl
1 x scissors
12X Needle kit
8X Finger Cots
4 X Cotton Swabs
                                  35 Pcs Leather Craft Tool Set
Package Included:
1 Set x Leather stitching spacer(3mm/4mm/5mm/6mm)
1 x Adjustable Edge Creaser
1 x 1mm Edge Beveler
1 x WUTA Sanding stick
1 x WUTA Round polish tool
1 x TMJ Knife
1 x 1 meter white wax thread
1 x Awl
1 x scissors
4 x Cotton Swabs
12X Needle kit
8X Finger Cots
View full details