WUTA LEATHER
Regular price
$1.98 USD
Sale price
$1.68 USD
Unit price
per
Sale
Sold out
87 in stock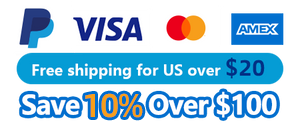 WUTA LEATHER has been committed to the development and design of various high-quality leather products, and also needs to use a variety of bag accessories, but due to the uneven quality on the market, it is difficult to find high quality accessories of the same series. Many other leather craft men who pursues high-quality bag accessories also encountered such problems.

As we know, when we made a bag,the proportion of accessories cost isn't very high,but it is undeniable that excellent accessories not only plays a structural extension role in the design, but also can be the finishing touch element, making the bag more brilliant.Especially in leather craft,each stitch and line of handmade leather goods condenses the hard work of the craft man, and it is more worth to use high quality accessories.

So we decided to develop a series of WUTA Leather accessories.It took a year to develop,and now it is finally on sale.

As we know,the hardware could be more cheaper if use the hollow and thin material,but that will make the hardware light and easy to break,not durable.we made of high strength thick zinc alloy,with excellent quality.
Features
Practical materials- Made of high-strength thick zinc alloy, with excellent quality.
Sufficient strength-No welding,no gaps,enough strength to be used in luggage making,pet supplies,and other items that need weight.
Mirror polishing-Mirror polishing before electroplating, so that the metal can be better combined with the plating layer,durable, not easy to fade.
Professional electroplating-Resistant to scratches, acid and alkali, and good rust prevention.After plating, rust prevention treatment was performed twice more.
Classic colors- Gold and silver are more versatile, and can be applied to handbags,backpacks,luggage straps,etc.
Specifications
Brand:WUTA
Name: D Ring,Pin Buckle, Hook Buckle,Tri-Glide Buckle
Material: Zinc alloy
Color: Golden/Silver
Package
1 Piece,size according to your choice.
View full details