WUTA LEATHER
Regular price
$12.44 USD
Sale price
$6.99 USD
Unit price
per
Sale
Sold out
100 in stock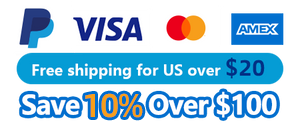 Specifications
Name: WUTA 100% Pure Neatsfoot Oil

Purpose: This neatsfoot oil compound is a combination of essential leather oils, Use On All Finished Leather Products
Features
1.100% Pure Neatsfoot Oil with no added petroleum distillates, moisturizes, softens and conditions your favorite leather products.

2.Prime Neatsfoot Oil Compound, the main component is glyceride of oleic acid.It is non-drying oil, light yellow liquid and almost odorless. It is not easy to rancidity, and not easy to deteriorate even in contact with air. It has a certain restorative effect for dried out leather, plays the role of fatliquoring, softening and lubricating leather fiber, makes dried out
leather soft and pliable, also has a certain protection for leather.

3.Use On All Finished Leather Products, Works great on shoes, boots, belts, wallets, baseball gloves, equestrian equipment, and more.

4.Will Darken Most Leathers, Test on small inconspicuous area before using, please note that neatsfoot oil will darken most leather.
100% Natural
Pure natural material Not easy to deteriorate, protect leather.
Resistance to water and low temperature
With the depth of the leather edge combined with repeated bending is still firm No falling or cracking in use for a long time
Use effect
The oil can speed up the discoloration of leather At the same time make the leather surface to achieve good grease effect.
Aluminium film seal
Can be stored for a long time
View full details