WUTA LEATHER
Regular price
$21.52 USD
Sale price
$11.91 USD
Unit price
per
Sale
Sold out
59 in stock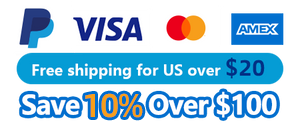 Specifications
1. Material: 304 stainless steel + brass screw socket
2. Volume of alcohol: 200ml
3. Base diameter: Apro.78mm, height in 100mm
5.Application:Craft Work, laboratory, hospital, chemical, biological, health care, moxibustion diet, etc.
Features
● 100% wuta brand new and high quality.
● We adopt this kind of 304 Stainless steel and brass screw socke to make sure alcohol burner is in the best quality,great anti-rust property,corrosion resistant,unbreakable,durable
● Stainless steel meets the hygiene demand of food, pharmaceutical, chemical and other application.
● Empty weigh 200g, heavy wall,impact resistance, anti-explosion,security increased.
● Adopts good quality lamp wick which can use more than one year.
● Suggestion on the best filling amount is two-thirds of total volume.
● It is recommended to use 95% or more concentration of alcohol solution.
Package
1x steel alcohol burner. (no alcohol inside the box)
Stainless Steel Alcohol Burner
100% wuta brand new and high quality.
304 Stainless Steel and Brass Screw Socke
We adopt this kind of 304 Stainless steel and brass screw socke to make sure alcohol burner is in the best quality,great anti-rust property,corrosion resistant,unbreakable,durable
View full details