WUTA LEATHER
Regular price
$5.98 USD
Sale price
$4.19 USD
Unit price
per
Sale
Sold out
45 in stock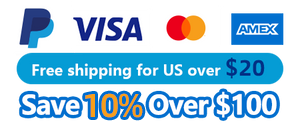 Description
Material: Imported aviation plastics+Wood
Color: As shown
Alphabet Size: Lowercase for example "a" width 3.6mm/0.14inch, height 2mm/0.079 inch; Capital "A" width 5mm/0.19inch, height 4mm/0.157 inch.
The letter plastic stamp including capital letters A-Z,lower case letters a-z,0-9 and some special characters and graphics.
Feature
---This tool can be customized for your personality, such as your name, and exclusive patterns, in any location, such as leather goods, backpacks, and canvas shoes.

---Economical and convenient tools, ideal for leather craft hobbyists.

---Plastic Printing. The kit uses two plastic embossed plates with a total of 79 letters, numbers and special symbol graphics on the two plastic plates. They are 10 numbers, 26 alphabets (26 capitals, 26 lowercases), 17 special symbols and graphics.

---Scope of Application. The embossed set is more flexible and lightweight than metal tools, and is mainly suitable for embossing leather, paper, and rubber, etc.

---We have tested and tested, it can work well for your craft work. Of course, if you use the stamps high frequency, it is recommended to customize the brass or metal stamps. If there are any problems, please contact us in time.
Note
1.If knock overexert or unevenly,maybe the letters will crack,it is the normal phenomenon,do not affect to work.

2.About leather, it is recommended to use it on vegetable tanning leather. The effect is better after wetting the leather with water. Other types of leather may not be applicable. (chrome tanned leather with strong elasticity is not suitable for use, and the mark will recover quickly)
Package
3 Pcs Set:
1 x Capital alphabet + number stamp
1 x Lowercase alphabet stamp
1 x Wooden Stick
With lower case letters,capital letters,number and patterns,Meet more requirements.
With good tenacity,not easy to break.
Please don't overexert when knock.
Clear transparent material,easy to operate
Use Effect Reference
Use effect reference in different types leather
View full details