WUTA LEATHER
Regular price
$59.98 USD
Sale price
$38.39 USD
Unit price
per
Sale
Sold out
19 in stock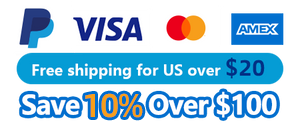 Features:
💎【First Layer Cowhide】Unlike other faux leathers, our products are genuine leather with a smooth top texture and a soft suede bottom. They are made from the first layer of cowhide, strong and durable, compact and flexible.
💎【Cutting Sales】Leather sheet thickness 2.5-3.8mm (6.25-9.5oz), pre-cut 3 feet or 5 feet. We have 3 colors black, coffee, and brown for your choice. We have a free thinning leather service. If necessary, you can contact our servicer, please.
💎【Features】Natural throwing is a method that gives leather an uneven texture by tumbling it in a drum, without any mechanical embossing. It enhances the leather's pores and shine, and with time, full vegetable tanning will naturally darken the color for a vintage look.
💎【Purchase Instructions】Different Parts of cowhide leather have different patterns on the leather surface. Neck: Rugged style. Back: Uniform distress marks.Belly: Soft for the lining. Hip: Plain, no marks.
💎【Applications】Cowhide leather sheet has a wide range of applications in our daily life. Great for Arts, Crafts, Tooling, Stamping, Sewing, Carving Properties, Hobby Workshop.
Description:
Name: M--box Natural Textured Full Veg Tanned Cowhide
Material: First layer cowhide
Color: Black, Coffee, Brown
Process: veg tanning with natural texture. This leather has been on the scene since the 1980s and is very much a classic material.
Thickness: 2.5-3.8mm (6.25-9.5oz) (There are differences in thickness between different parts)
Purchase Instructions:
About size: 1 sq.ft irregular form,is equivalent to about 900 cm²s. The shape is irregular, but 3sq.ft irregular,the area is 3x900=2700 cm².

Cutting Sales: Half Cut Cross Cut (Unable to specify the part of the leather material. If there are requirements for the length of the leather material, please communicate with customer service before placing an order)

Approximately thickness: original thickness is 2.5-3.8mm (6.25-9.5oz) please choose the thickness you want . pls note that different part,there are +-0.2mm deviation. if you have specially requirement of thickness ,please remark the requirement when purchase.

Free skiving service:If you need thinner thickness,please leave a message for us when you order, we can skive the leather to the thickness you need(with machine) .Leather can be skived to 1.0mm thick or above.
Package:
The thickness and size depend on your choice.
Please note before your purchase:
a. The real color of the item may be slightly different from the pictures shown on website caused by many factors such as brightness of your monitor and light brightness.

b. Leather pieces are cut from a whole piece of leather,During the growth of a cow ,there are a few blemish such as scratches or scars,narural grain,or wrinkle on it , But, this leather has been selected to give you a high quality product and should work well for most leathergoods that require a veg tan leather.please comtact us if you are not satisfied with the quality.
If you want to custom large leather piece , please feel free to contact us, thanks
M--box Natural Textured Full Veg Tanned Cowhide
Natural throwing is the process of rolling around in a drum to create a natural and irregular lychee texture, which varies depending on the density of each part of the skin and is not mechanically embossed. Clear pores with natural luster. The full vegetable tanning process will gradually darken the color of your work during use, giving it a more retro texture.
Different Parts Description
A:Neck Position,Natural neck wrinkles due to growth, suitable for rugged-style products.

B:Back Position,High density, tight fibers, even distribution of distressing marks.

C:Belly Position,High flexibility, relatively soft, larger wrestling grains, suitable for lining.

D:Hip Position,High density, typically plain-grain without distressing marks.
Soft to the touch,tightly grained, rich in natural oils.
The texture of natural falling patterns is irregular lychee patterns.
which exhibit different effects depending on the density of each part of the skin.
Defect description
Due to the lack of post-repair and coating on the leather surface,
it displays its natural state. Therefore, each piece of leather may exhibit varying degrees of flaws such as scars, scratches, vein marks, wrinkles, discoloration, and growth lines.
View full details